Are you still prescribing ITB stretches and clams for lateral hip pain?
If you are still prescribing ITB stretches and clams for lateral hip pain, it might be time for a knowledge update!
Painful tendinopathies are one of the most frequent musculoskeletal conditions with which patients present to physiotherapy clinics. Diagnosis can often be challenging, with hip and pelvic tendinopathies often masquerading as lumbar-referred or hip joint pain. A missed diagnosis or incorrect management plan can lead to delayed outcomes for our patients and loss of confidence & patronage for the physiotherapist.
How can I be confident of making the correct diagnosis for hip & pelvic tendinopathies?
The best solution is to keep your knowledge up to date! There has recently been substantial progress in the area of diagnosis for gluteal tendinopathy. In fact, I recently co-authored a paper on this topic in the British Journal of Sports Medicine! You can experience first-hand the practical application of these learnings at my May workshop: Understanding Tendinopathies of the Hip & Pelvis.  During the workshop, you will learn to skillfully perform the latest diagnostic tests for gluteal tendinopathy as described in the BJSM paper as well as a battery of clinical tests for proximal hamstring, iliopsoas, and adductor tendinopathies. These have been extensively road-tested in clinical practice.
Update your hip & pelvic tendinopathy management plans
Did you know prescribing ITB stretches & clams for lateral hip pain can often worsen symptoms and hinder progress?
The impact of hip tendinopathies can be profound: gluteal tendinopathy can have an impact equal to severe hip osteoarthritis; while proximal hamstring tendinopathy and groin pain can end sporting careers. Through ongoing research, we now know that some of the more traditional management approaches lack evidence base and can potentially be detrimental to a patient's outcomes. Advances have been made in the general principles of tendinopathy management & these principles provide faster and better outcomes for our clients.  The Understanding Tendinopathies of the Hip & Pelvis workshop provides a step-by-step approach to implementing the latest evidence-informed and effective management strategies.
Find out more
Through my role as an adjunct research fellow with the University of Queensland, I've had the immense pleasure of being a key member in a major study involving the development of education and exercise strategies for the management of gluteal tendinopathy. This involved extensive testing in a large randomised controlled trial and we are excited by the outcomes. The results are due for publication in the coming months so be the first to know by subscribing for further updates.
Another great Lateral Hip Pain blog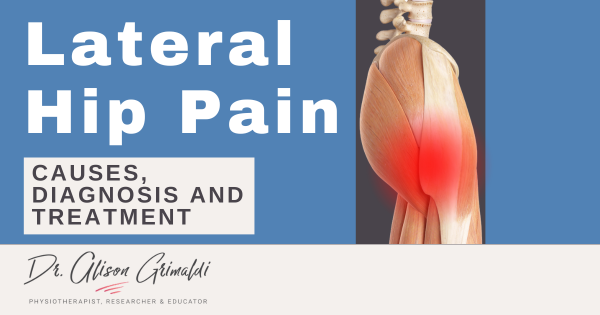 Lateral Hip Pain: Causes, Diagnosis, and Treatment
Sign up to our newsletter to receive updates on upcoming courses, news and special offers.