12 of 12 Top Hip Papers of 2022 | How education and exercise helps gluteal tendinopathy
Here we are already, on the last and final day of the 12 Top Hip Paper of 2022! Many of you will have little ones so excited about a big man with a white beard visiting the house tonight. Such a magical time! Ours are all grown up now, last one just finished school. Time flies so quickly - enjoy your special time, when December is filled with wonder and excitement!
So, for our last day of the 12 Hip Days, I have saved a special paper, a paper the LEAP team have been working on for a while. Hopefully you are familiar with the great results we were able to achieve with the education and exercise program in the LEAP randomised clinical trial for management of gluteal tendinopathy (aka Greater Trochanteric Pain Syndrome - GTPS). This paper answers an important question - how education and exercise helps gluteal tendinopathy. How were the excellent outcomes (≈80% success rate for global rating of change) of the education and exercise protocol for gluteal tendinopathy achieved. What factors moderated or mediated the outcomes - education and exercise versus corticosteroid injection versus wait and see?
Did the education and exercise group achieve these outcomes secondary to changes in muscle function or other factors? Did greater clinical severity, more severe tendon pathology or longer duration of symptoms influence outcomes? Scroll down to find out!
12 of 12 Top Hip Papers of 2022

:

Mediators and moderators of education plus exercise on perceived improvement in individuals with
gluteal tendinopathy
The LEAP education and exercise approach has previously been shown to be superior to corticosteroid injection and Wait-&-See in the management of gluteal tendinopathy (LEAP Trial). But it was unclear which factors might influence the outcomes - how education and exercise helps gluteal tendinopathy compared to the other interventions. Do those with gluteal tendinopathy have better global outcomes from education and exercise than corticosteroid injection or wait and see because the exercise makes them stronger? Or are there other factors at play?
Study Aim:
To investigate mediators and moderators of effects of an education plus exercise program compared to corticosteroid injections or wait-and-see on perceived improvement in individuals with gluteal tendinopathy.
What was done:
An exploratory analysis of moderators and mediators of effects of education plus exercise on global rating of change, compared with corticosteroid injection and wait-and-see in individuals with gluteal tendinopathy (LEAP TRIAL). Huge Kudos to Dr Rebecca Mellor, Professor Bill Vicenzino and our wonderful statistician, Dr Jessica Kasza for their work on this analysis.
Moderator analysis of outcomes of LEAP Trial for Gluteal Tendinopathy
What are moderators?
Moderators are baseline patient features that may potentially influence the treatment effects of education and exercise vs corticosteroid injection and wait-and-see.
Factors tested as potential moderators
Clinical Severity, as measured with the VISA-G patient rated outcome measure
Severity of Tendon Pathology, as assessed on MRI
Pain Catastrophising, as measured with the Pain Catastrophising Scale
Symptom Duration, from patient report
Menopausal Status, from patient report
Mediator analysis of outcomes of LEAP Trial for Gluteal Tendinopathy
What are mediators?
Mediators are underlying mechanisms that may have caused the outcome - the intervention changes the mediator and changes in that mediator create the effects of the intervention.
Factors tested as potential mediators
Active Hip Abduction Range of Motion, measured in sidelying with an inclinometer
Hip Abduction Muscle Strength, measured in supine with a dynamometer
Pain Constancy - the percentage of time the participants had pain over the past week
Pain Self Efficacy, as measured with the Pain Self Efficacy Questionnaire
Patient Specific Function, as measured with the Patient Specific Functional Scale
Key Findings:
Which factors moderated the outcomes of the LEAP Trial for Gluteal Tendinopathy?
NONE! None of the tested factors significantly influenced the effects of treatment for gluteal tendinopathy in this randomised clinical trial.
Which factors mediated the outcomes of the LEAP Trial for Gluteal Tendinopathy?
Treatment effects appear to have mediated by improvements in:
patient specific function,
pain constancy, and
pain self efficacy,
But not by changes in muscle function - active hip abduction or hip abduction muscle strength.
Clinical Implications:
Does this mean that we don't need to worry about optimising muscle function in our rehabilitation of gluteal tendinopathy? Do we only need to provide education?
Well, no, but it does indicate that a good education program is likely to be central to the effects we achieve in an education and exercise approach for gluteal tendinopathy. Exercise is likely to have assisted in a secondary manner, to improve patient specific function, pain self efficacy and reduce pain constancy.
One of the factors that we were not able to measure at the end of the active intervention period was how people were moving - biomechanics. Kim Allison's wonderful PhD demonstrated that those with gluteal tendinopathy move in different ways, with much higher loads imposed on the abductor mechanism in gait. Unfortunately, it was not feasible to collect this intensive data on all participants before and after the 8 week intervention, so it remains unknown whether we changed movement patterning and abductor loads during function.
A key component of the program was to train movement patterning in everyday tasks such as walking and stair climbing, so it is possible that changes in movement patterning may have been one of the underlying contributors that could explain how education and exercise helps gluteal tendinopathy. Further research would be required to test this hypothesis.
Supervised and home exercise may also improve pain self-efficacy, the participant gaining confidence from practising functional tasks such as squatting, single leg standing and step ups. The physiotherapists guided participants on movement changes to reduce provocative loads, reassured them if there were concerns about injury and provided clear guidelines around staying 'safe' while exercising - a self monitoring model.
Below are my overall thoughts on what the evidence from this paper might mean for clinical practice.
To optimise effects of Education and Exercise in the management of gluteal tendinopathy:
Focus on addressing the individual's specific functional difficulties
Education - reduce provocation during specific tasks *sleep

Assess & address movement patterning during specific functions *gait, stairs

Find an alternative or easier level/lower entry point to rebuild this function
Aim to improve pain self efficacy
Education - improve understanding, reduce fear, clear actionable advice

Supervised training – functional tasks & exercises – increase confidence
Reduce pain constancy
Education - address sustained or repetitive positions or tasks that may be provoking pain

Optimise patient specific function – things they do regularly.
And that's not all from the LEAP team, there are still a couple more insightful papers coming out - it's the trial that just keeps giving!
If you'd like to learn more about the specifics of the LEAP program and how it can be applied in everyday practice, check out the options just down the page.
Another great Lateral Hip Pain blog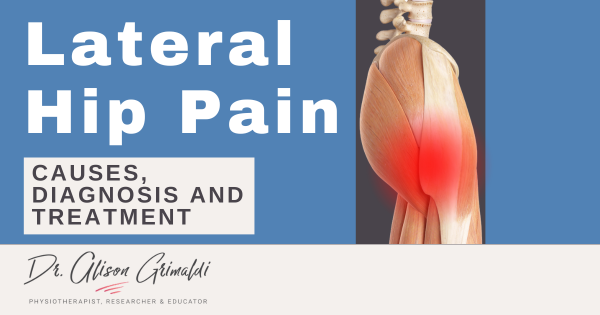 Lateral Hip Pain: Causes, Diagnosis, and Treatment
Have you heard about Hip Academy?
Enjoy the benefits of a world class educational Hip Program, specifically designed by Dr Alison Grimaldi to help improve your knowledge surrounding the Hip and Pelvis, and become an expert in your field.
With all Hip Courses included, enjoy all the extra inclusions, including; access to the entire eBook series, growing video library, expanding PDF resource centre, regular member meetings, forums + lots more!
Like to learn more about assessment and treatment of patients with Gluteal Tendinopathy?
In this course, you can find detailed information on pathoaetiology, assessment and management of lateral hip pain associated with gluteal tendinopathy, and a deep dive on buttock pain.
Take the online course, or join me in a face-to-face or online workshop.
This online course is included in Hip Academy and Hip Academy members receive discounts for online workshops.
I hope you enjoyed the infographics and key learnings from the final day of my 12 Top Hip Papers of 2022 series. Thanks for taking this journey with me. There were of course other great papers published this year, but I aimed to choose some highlights across a variety of hip related topics. I hope you liked my selection and feel like you've caught up on what's been happening in the hip world across 2022.
Have a wonderful festive season and a Happy New Year and I'll see you in 2023! Due to international teaching and travel commitments, and I'm sure you'll all be busy too, there won't be a blog in early January, but I have plenty of social snippets prepared for you. I'll be back on the blog in February, so I'll see you then!
If you missed yesterday's Hip Paper, click the link below to catch up!
Sign up to my mailing list for updates and my MONTHLY HIP FACT FILES - with clinically relevant facts, stats, and featured papers. Check out what people are saying about this series below.